Democracy Now! | Medea Benjamin Dragged Off DNC Floor in Handcuffs For Unfurling "End the Occupation of Iraq" Banner (Video)
Democracy Now! Medea Benjamin Dragged Off DNC Floor in Handcuffs For Unfurling "End the Occupation of Iraq" Banner
: "As Teresa Heinz Kerry gave her prime-time address that never mentioned Iraq,
Code Pink
founder Medea Benjamin attemped to bring an anti-war message onto the floor of the convention. Moments later police were dragging her out of the Fleet Center. "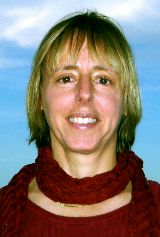 CODEPINK gives Linda Ronstadt a Pink Badge of Courage!
After last weekend's upset at the Alladin Casino and Resort in Las Vegas CODEPINK has decided to give Linda a Pink Badge of Courage.
Click here for more information.
Help Fahrenheit 9/11 Movie Goers Get Active
CODEPINK, Global Exchange, and United for Peace and Justice have created a flyer that you can download from any of our websites and distribute outside Fahrenheit 9/11 screenings. The flyer describes five things F 9/11 fans can do to turn up the heat on our government:
Learn More
Download Flyer